The ADU University is a program offering a formal goal-setting and accountability system of dressage training and education, supported by a volunteer mentor. It is for serious dressage enthusiasts, in order to improve their progress and advancement up the levels of USDF dressage. It is a structured support system for developing and maintaining discipline in the life-long learning process of dressage.
ADU Members who wish to participate in this program will formally sign up for it with the ADU University "Dean", preferably at the beginning of the year, although any time is fine. With the guidance of an approved qualified volunteer dressage mentor, the student will set the goals that they wish to achieve for themselves for that year. This will include advancing through a specific level of dressage, and a plan to follow a progressive riding and training program for the upcoming year. The program will be laid out on paper and the member pledges to follow the program to the best of their abilities.
The program, in varying degrees, may include the pledge to: ride a number of times a week, take a number of instructional lessons a month, attend a number of ADU workshops, practice dressage shows, DVD Nights, read dressage magazines and books, and volunteer or compete at USDF recognized shows (USEA shows for Eventers, USDFBC shows for Sporthorse Breeders).
The student will check in with the mentor at least monthly throughout the year to evaluate how they are fulfilling their pledges. Together they will assess the student's progress, fill out a monthly summary report form, all in a relationship of honesty, encouragement and support. A Mid-Term and an End of Year Summary Report are required to be filled out and sent to the ADU University Dean. All ADU University participants will be recognized, and successful "ADU University Graduates" will be honored at the annual ADU Year End Celebration party.
Levels of Commitment to Dressage Education
and Training
Five levels of structured training tracks will be offered, the naming of these uses the University model of rigor that the participant student aspires to. The student will choose which they pledge to follow for the year.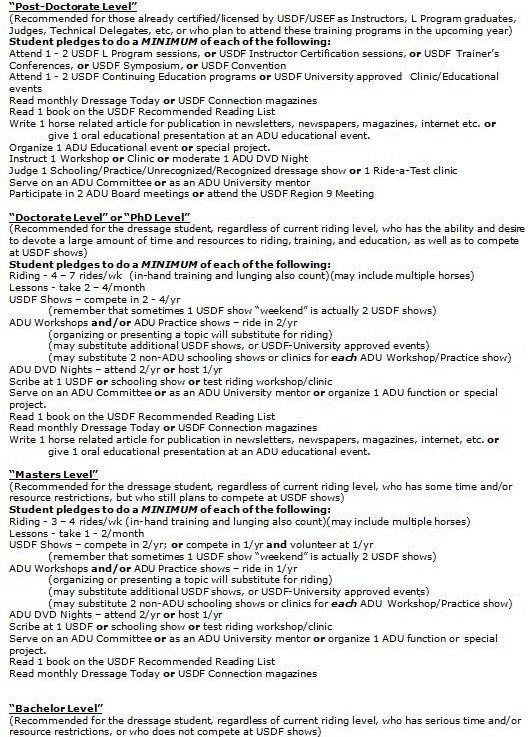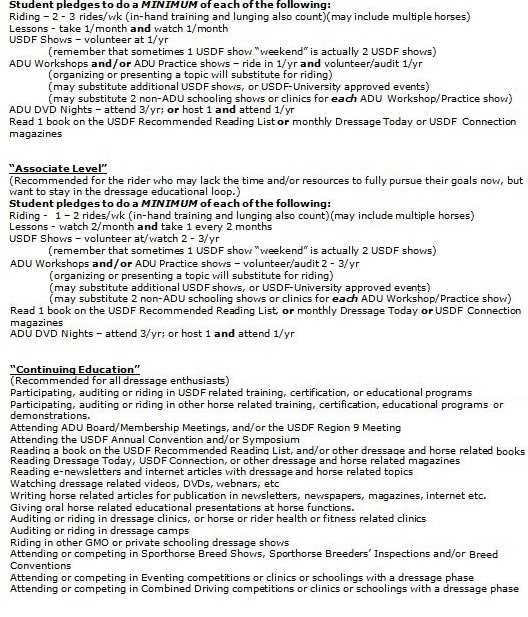 ---
Laurel Burch Mystical Horses Journals for ADU University Students.
Other designs of journals may also be offered.
TUITION –
The ADU University program will charge a non-refundable $20 tuition fee per membership year to each student who chooses to sign up and participate. Enrollment form and fees are to be sent to the ADU University Dean. The ADU-U student will then be provided with:
A record keeping journal provided by ADU to the student for detailed documentation of their dressage activities on a daily, weekly, monthly basis throughout the year.
An initial Student Pledge form to fill out and sign, with the student's stated goals, University level they wish to commit to, plan of action to fulfill the requirements of that level, and the approved dressage Mentor who they intend to work with. The agreed upon mentor will also sign the Pledge form for that student.
Evaluation forms for the student and mentor to fill out together on a monthly basis, sign, and keep copies of, stating the goals and requirements achieved during that time period. Mentor may offer advice and encouragement, and will include suggestions for improvements.
A Mid-Term and an End of Year Summary Report form is required for the student and mentor to fill out together, sign, and keep copies of, as well as sending a copy to the ADU University "Dean." This report will state the goals and the average number of ADU University requirements achieved, and an overall review of the student's progress and advancement during this time period.
A list of approved ADU University Dressage Mentors who have already volunteered and been accepted for the upcoming year. A student may nominate another qualified person to be a possible mentor to the ADU-U Dean for consideration.
A list of books on the USDF Recommended Reading List.
Recognition for all participants, and special recognition for successful "ADU University Graduates" at the annual ADU Year End Celebration party.
The "Dean" of the
ADU University Program for this year is:
Cean Embrey
11805 Trails End
Leander, TX 78641
email: This e-mail address is being protected from spambots. You need JavaScript enabled to view it
phone: 512-267-1774
Please contact the "Dean" if you would like to sign up to participate in ADU University.

Please contact the "Dean" if you have any questions or concerns with your participation in this ADU University Program. All forms are available in PDF format for easy email communication between the ADU University student, Mentor, and Dean. Email method is preferred over hard copies.

Thank you and Good Luck!
---
Criteria to be an ADU University Mentor:

Be a member in good standing of Austin Dressage Unlimited.
Must have one of the following education or accomplishment designations:

USDF/USEF Judge
USDF/USEF Technical Delegate
USDF Certified Instructor
USDF L Program Graduate
USDF Bronze, Silver, or Gold Medalist

Agree to follow the ADU University guidelines and requirements.
Agree to participate in continuing education for themselves throughout the year.
If a student wishes to nominate a person to be their mentor who is not already an approved ADU University volunteer mentor, they may submit their preferred mentor's qualifications to the ADU-U Dean for consideration.